Behind the Scenes at Pine Grove Crossing
Browse our photo gallery to get an idea of life at Pine Grove Crossing. Our locally owned senior living community, though it's brand new, encompasses all the history packed into Parker, Colorado. We are respectful of our roots with an eye toward the future – of contributing to a thriving community while maintaining a hometown feel. See the clear Rocky Mountain views our residents relish every day from the comfort of a community that offers all they need. We have a variety of senior living suite types and care levels to offer that will give you quality care right here in Colorado. Shared courtyards and walking paths open to residents and their families give a taste of the great outdoors in the Denver area. Picture you or your loved one engaging in the daily activities we provide seven days a week via our Life Enrichment program, or sharing a fresh, delicious meal among fellow residents in The Pinery, our beautiful grand dining room. You won't even have to leave our community to do so many of the things you love. Treat yourself to a day of pampering at Posh Grove Salon or a workout in our Mind-Body-Soul Studio. Borrow a book from Trapper's Place or meet up with neighbors in the Twenty Mile Clubhouse to build friendships and settle into your new home.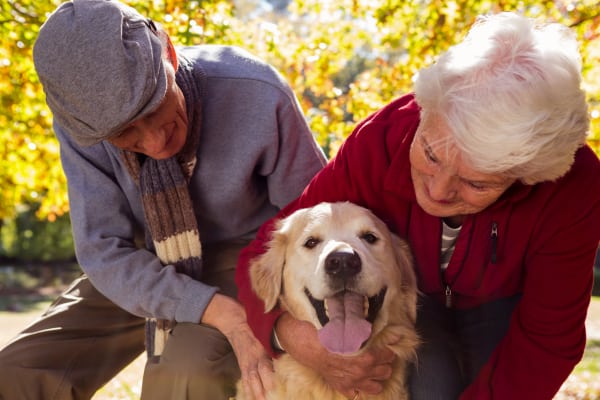 Pet-Friendly Assisted Living
We understand how much a pet can contribute to the happiness and wellbeing of people young and old. At our senior living community in Parker, CO, we welcome and encourage Assisted Living residents' pets to join them. Our animals often complete our lives. Having a familiar companion to join you or your loved one in Pine Grove Crossing's Assisted Living neighborhood can make the move-in transition easier and help motivate you to stay active, even if it's in small ways. Strolling our gorgeous walking paths is all the more enjoyable with your beloved pet by your side. Interested to learn more about pet-friendly Assisted Living in Parker, CO? Let us answer your family's questions today.